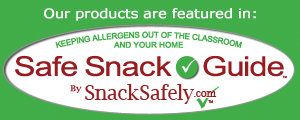 Food Allergy Resources
On this page we will provide links to websites dedicated to helping those living with food allergies, sensitivities and intolerances. Look for updates regularly, we will be adding to this Resources page for a long time to come.
PLEASE NOTE
We specialize in edible treats. Also, we offer a small range of handmade soaps. However, we do not make candles.
Door County Candle company is being featured, because of their variety of paraffin candles in apothecary jars. They are made in a safely separate tank from their soy candles, and are therefore a safe candle option for soy allergic patrons sensitive to burning soy wax. Use your own discretion when choosing scents or give them a call for more info. As a small family business they get my nod.
EDUCATIONAL LINKS
The following three sites are excellent sources of information on Food Allergy and related conditions:
Food Allergy Research & Education (FARE) is Here
Mayo Clinic offers food allergy advice... Here
American Academy of Allergy, Asthma and Immunology is Here
SUPPLIER LINKS
The following sites are excellent sources of products for those interested in making some of their own treats at home:
Namaste Foods is a supplier of cake, muffin, waffle and other mixes. You can visit their site Here
Gerbs is great if you want to take it a step further. You can buy grains, dried fruits, seeds and even seasonings. Visit Gerbs Here