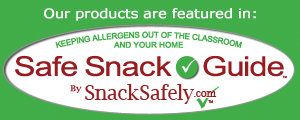 Custom Baked Goods & Candy
Welcome Everyone!
We are here to provide safe treats and safe body products for those who are often left behind in traditional markets, due to celiac, allergies or other sensitivities.
About Our Products
Safe4Me® products are made with ingredients that do not contain:
Gluten
Egg
Peanuts/Legumes
Treenuts
Soy
Fish
Shellfish
And are made in a facility that is free of these items as well.
In the United States alone estimates of the number of individuals with food allergies run in the area of 30 million! Yet the number of businesses and organizations recognizing this as a serious situation remains a paltry few by comparison.
Safe4Me is dedicated to helping bridge that unfortunate gap.
For a complete list of products currently available please click the link below for our Products page.
Please note: the facility does handle milk and other dairy products. Some Safe4Me products contain dairy. These products are always clearly marked.
Our Founder
...and President/CEO is Aimee O'Hara, OTR/L who has spent almost 30 years "adapting" recipes and formulas to suit her needs and those of her children. Aimee originally wanted to be a chef/baker but was unable to attend culinary school due to Celiac's disease and food allergies, so she went on to her other love of helping people overcome their functional barriers as an occupational therapist. Now she plans to combine her loves into helping people enjoy life a little more with a safe treat for the body (outside or inside).