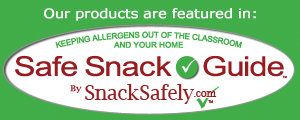 "Safe 4 Us" Too!
We are "Safe 4 Us" as well as Safe4Me® We make every effort to use the most ecologically responsible ingedients, packaging and energy sources available.
For example, many of our ingredients are Certified Organic, produced using the most natural and sustainable methods possible.
Our product boxes are made from fast-growing and ever renewable sugar cane fiber.
Our shipping boxes are completely re-useable and/or recyclable.
Finally, 100% of the energy used to produce all of our fine treats comes from our very own array of solar panels... as shown below!
If you have any questions or comments on Safe4Me's commitment to being as "green" as possible, send Aimee an email via the link below: